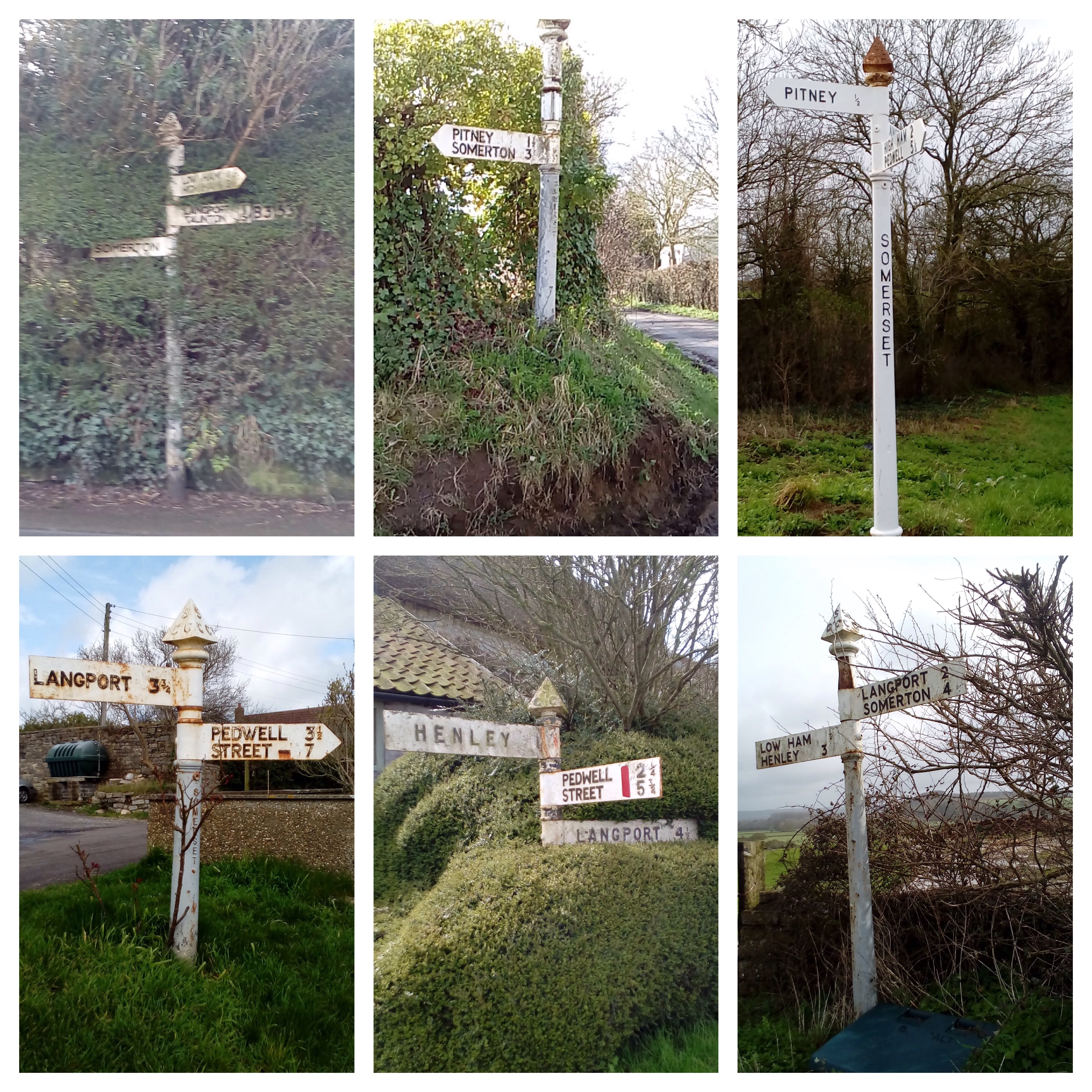 Somerset Fingerpost Restoration Project
Somerset County Council are nolonger able to fund the routine maintenance of its historic fingerposts. They invited Parish Councils and community groups to do the maintenance - they fund the mandatory training, but the cost of materials is funded by the PCs/groups. Early 2018 High Ham Parish Council decided to get involved  and fund the restoration project to ensure the parish's 6 historic fingerpost's future. Following a day of training and a lot of form filling, a survey of all the parish's fingerposts was completed with photographs, measurements and condition reports and submitted to SCC. All paints used during restoration are regulation SSDC Highways paints. The 3 newer fingerposts will be cleaned, but painting will be minimal. The signpost on Picts Hill cannot be restored by the volunteers because of its precarious location
05.06.18 Fingerpost at top of  Hext Hill - lettering painted.  Post at Windsor Farm, Henley - post excavated and raised in height. Post and arm still in situ, scraped and primed. Post at bottom of Stout excavated in preparation for removal. Deep down, fragments of decorated early C20th china found, with lego brick underneath - curious archaeological layers! Thanks to Bill who briefly joined in, to nearby resident's crowbar, and to passing drivers' words of thanks. Workparty: Roger P, Dave V, Phil C, Amanda C.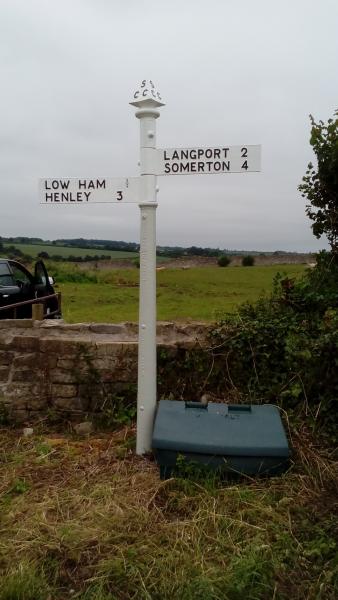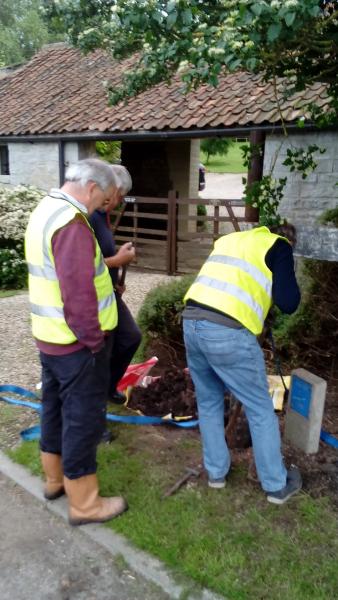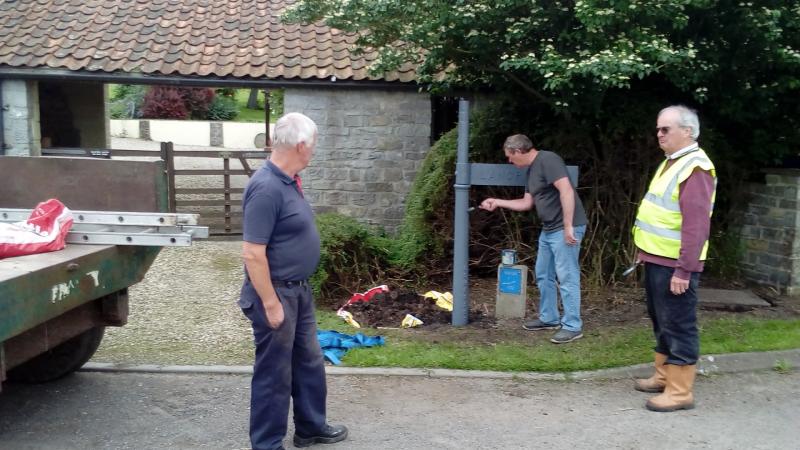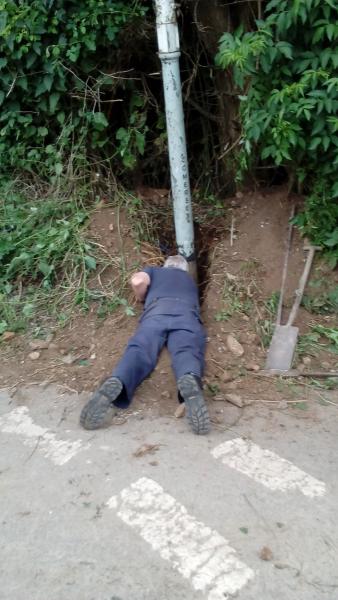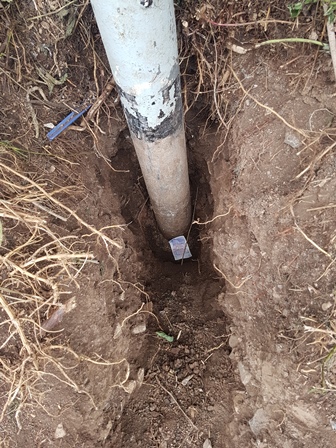 Hext Hill                                                   Windsor Farm, Henley                                                                                                                Stout Hill  - and mystery £20 deposited 01.016.18
30.05.18  Wearne and West Henley signs  - algae removed. One Elm post raised lettering 'Somerset' painted black. Hext Hill finial reinstated and final coats of post and arms finished. Henley/Ham Hill junction the finial and 2 of the 3 arms removed with the use of jemmies, jacks and a lot of effort - they will have rust and layers of flaking paint removed, and primer and top coats painted off-site. 4 hour session. when cutting back hedge to access the post, a water hydrant post and drain access cover were revealed. Thanks to Jane at Windsor Farm for refreshments and broom.   Workparty: Roger P, Dave V, Phil C, Amanda C.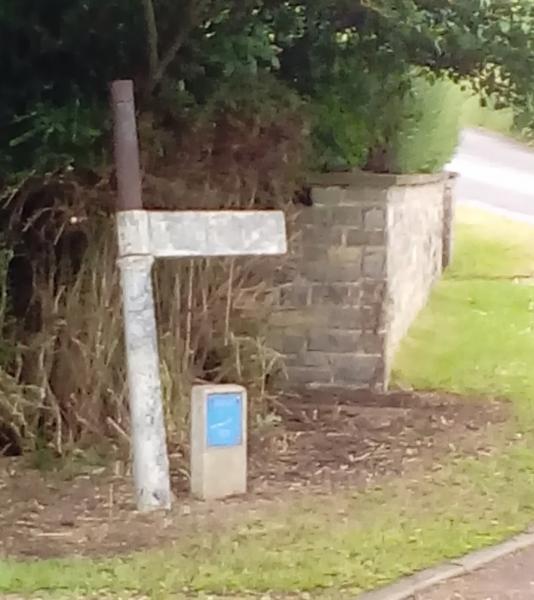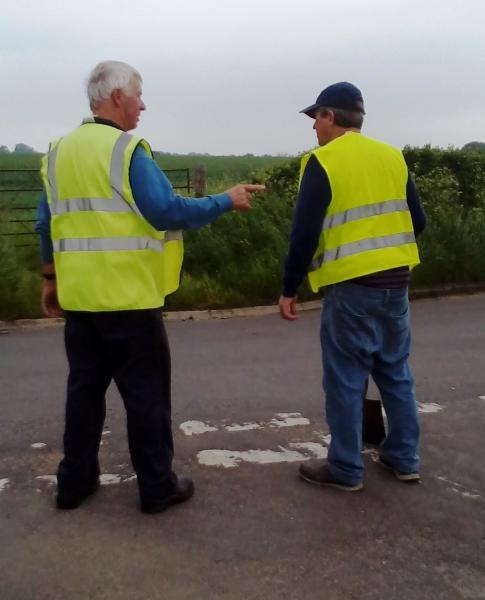 22.05.18 One Elm fingerpost finished with finial painted following removal of rust, priming and top-coating. Hext Hill fingerpost first coat on post and arms.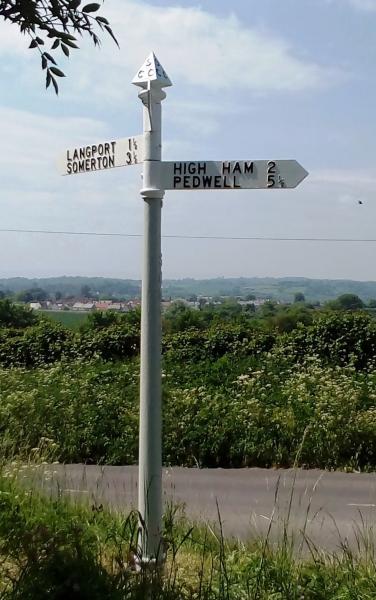 17/18.05.18 The first workparty took place at 2 posts: One Elm ,top of Culver Hill, and top of Hext Hill. The current Culver Hill Fingerpost is a replacement for the one damaged by a Highways contractor. For some reason the finial had been left unpainted. The post was painted grey to match the other posts in the parish. The finial was cleared of loose paint and rust, then painted white. The finial lettering will be finished at a later date. The Hext Hill post was in poor condition so it was cleared of vegetation, and the rust, flaking paint and algae were removed. The finial was removed for further work -  painting will happen at a later date.  workparty: Dave Vigar (and his tractor and trailer), Roger Powell, Amanda Chuter